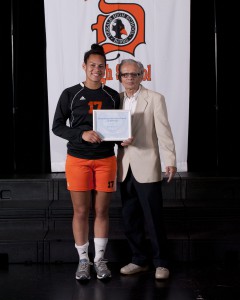 Every year, the Interfaith Network awards a scholarship to a graduating DeKalb High School senior: 2014 award winner, Alexis Hammond, with Interfaith Member Clinton Jesser.  The $2000 scholarship will help support her study at Aurora University.
Other Awards:
September 2014.  Special award to Rey Ty.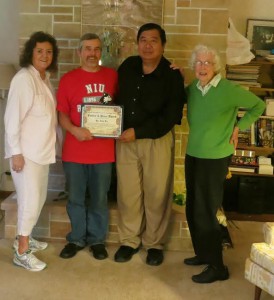 Photo: Lolly Voss, Steve Kapitan, Rey Ty, Cele Meyer.
For the DeKalb Interfaith Network for Peace and Justice, Rey has helped organize many events with co-sponsors such as the Department of History, Department of Philosophy, Department of Counseling, Adult and Higher Education, Amnesty International NIU, Amnesty International College of Law, Women's Studies Program NIU, Women's Rights Alliance NIU, Fox Valley Citizens for Peace and Justice, Rockford Peace and Justice, Sauk Valley Peace & Justice, First Congregational Church of DeKalb,  and other groups.  He played a key role in the following DeKalb events, which attracted both students and members of the community:
1. Three Women Who Stand for Peace. March 2014
2. Never More! Disappearances and Political Killings in Sri Lanka: What Can Be Done to Stop Human Rights Abuses and War Crimes Worldwide.  Sept. 2013
3. International Law, Human Rights, and the Moral Concerns Over the Use of Drone Warfare. March 2013.
4. David Kraft's Earth Day Lecture: Chernobyl, Fukushima, Iran, and Now North Korea: A Planet is a Terrrible to (Rad-) Waste—Proliferation and a Roadmap for U.S. Energy Policy. April 2013.
5. Kathy Kelly's Talk about Her Recent Trips to Afghanistan, Syria, and Gaza. Feb. 2013.
Other 2014 Award recipients:
Natalie Santiago, Co-Cordinator of Amnesty International-NIU (AI-NIU), with Interfaith member Steve Kapitan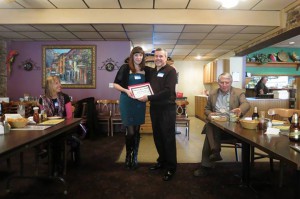 Eric Sterling, Co-Coordinator of AI-NIU, with Interfaith member Steve Kapitan
2013 Award recipient:
   Kevin Zickterman, then Co-Coordinator of Amnesty International-College of Law (COL) NIU, with Interfaith member Ric Amesquita