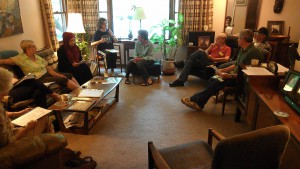 Steering Committee Meeting, June 2014: Monthly meetings plan programs and actions.
The DeKalb Interfaith Network for Peace and Justice was organized in the spring of 1985 by members of several local congregations in order to pool efforts on issues of common concern. The initial focus was on ending U.S. support for the wars in Central America.
The focus has since broadened to include a variety of peace and justice issues on which the network seeks to educate ourselves and the community.  We have sponsored many programs for the public, bringing in speakers from around the world.
The Network utilizes a three-pronged approach in carrying out our goal: education, action, and income.
Education includes:
• networking with national peace and justice organizations
• organizing presentations in local classrooms and church groups
• sponsoring programs for the public with outside speakers
• participating in local events such as the Memorial Day parade
• issuing news releases to local media
• maintaining a website, list-serve, and Facebook page
• working with the schools, including staffing a "Peace Table" at DeKalb High School and presenting a Peace & Justice Award to a graduating senior
Action includes:
• sponsoring the weekly Friday Peace Vigil in DeKalb
• encouraging phone calls, letters, and visits to media and political leaders
• organizing marches and other actions
• presenting petitions to City Council and other government organizations
• meeting with public school administrators in an effort to diversify teaching staff
Income supports:
• annual scholarships for graduating DeKalbHigh School seniors
• costs of speakers and programs
• human rights groups through the Central American Fund for Human Development
The Network raises money through contributions from individuals, support from local congregations, and donations made at programs.